MXMO LVIII: Niche Spirits
No, not
Nietzche spirits
.
Niche.
It's
Mixology Monday
time again!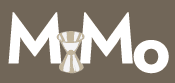 So, imagine this. After a visit home to see the family your Greek friend brings you some Metaxa and some Ouzo. The Metaxa you have occasionally after dinner as if it were brandy. The Ouzo you don't know what to do with. So it goes. And it goes for a while. Then you inherit some Sambuca. It begins to gather dust right beside the Ouzo. And so it goes. In the meantime several bottles of gin and rum revolve through your liquor cabinet. The Ouzo and Sambuca continue to gather dust. Then one day you find yourself with pineapple juice and club soda in danger of going flat. Whilst perusing a cocktail book you come across the
Assassino
. Before you make it though you discover the theme of the current month's
MxMo
, hosted by
Adventures In Cocktails
, to be Niche Spirits.
You get the bright idea to make an
Algonquin
but with Metaxa substituted for the rye. You figure the spiciness and wood of Metaxa 7 Star will be a nice stand-in for rye. You're wrong! Instead the vermouth and juice somehow cover up everything but the jamminess of the grape spirit. Not what you had in mind. It's a shame because you even had a clever name for this new drink. Algonquin makes you think of the wilderness (because of
Algonquin Provincial Park
) and outdoorsy activities (not hotels or literary clubs). That same Greek friend of the family once went on a canoe trip with your brother. A canoe trip near Lion's Head. It turned into a harrowing adventure. In the end everyone was okay, but it was dicey for a while....
Unfortunately the
Harrowing Canoe Trip
cocktail is not something you want to have again. Perhaps with 5 Star it would be better. Perhaps with less sweet juice it would be better. If you ever dare to have it again you'll find out. So your mind returns to the Assassino. Would you drink something called a Greek Assassin? Maybe. There's really only one way to find out. While It's name doesn't have quite the inscrutable ring to it that you were hoping for a tall drink may be the way to go. There isn't really a (personal) story you can tell about an assasin and-


Oh sorry, I got a little sidetracked. Here it is:
Dolofónos
2 oz Metaxa 5 Star
1 oz dry vermouth
1 oz pineapple juice
3 dashes ouzo
club soda†
Shake Metaxa vermouth and juice with ice. Strain in a Collins glass over ice. Top with club soda. Add dashes of ouzo on top of drink. Garnish with a speared cherry.
Cheers!
† While the Assassino calls for only 1oz of soda I found this inadequate for the chosen glassware, even after the displacement caused by ice. I chose slightly more dilution for a better photo.